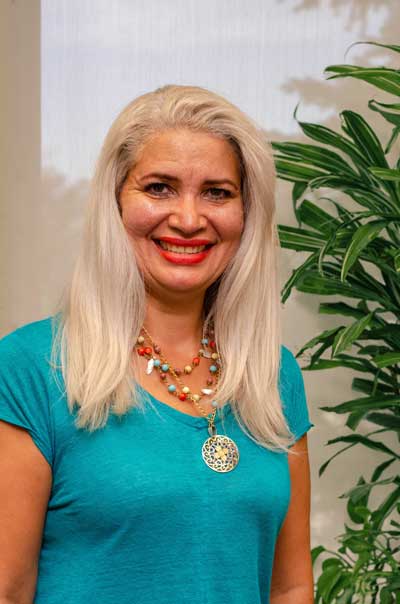 Dr. Correia is a Clinical Practitioner at the Centre of Alternative Therapies. As a Medical Doctor from Venezuela and a Doctor in Natural Medicine from Canada, she believes that the best way to educate and help individuals achieve Wellness is to take a Whole Person approach by considering their mind, body and spirit and to personalize each case by using evidence based and science-based tools and combining both complementary medicine and western medicine to achieve better results.
She earned her Physician-Surgeon Degree at the Central University of Venezuela. Since coming to Canada, her educational journey continues by studying Acupuncture, Reflexology, Holistic Nutrition, Homeopathy and Quantum Biofeedback becoming a Doctor in Natural Medicine.
As an internationally and Canadian trained professional for the past 25 years, she has been active both as a complementary and medical practitioner and counsellor within clinic settings and directly with companies. Her depth of experience includes treating chronic diseases, supporting cancer patients with parenteral therapies, acupuncture protocols and treatments, nutrition counselling, complex homeopathic and biological medicine.
She is also a strong advocate, coach, mentor, and teacher for championing clinical nutrition to achieve better health and for disease prevention, with specific focus in Obesity and Chronic diseases such as Diabetes, Dyslipidemia. Her advocacy has led to appearances in various media outlets including English and Spanish television and radio programs about nutrition.
Education
1995 – Physician-Surgeon Degree, Central University of Venezuela
2001 – Acupuncture Diploma, The Center of International Studies
2001 – Doctor in Acupuncture Diploma, The Open University of Complementary Medicine
2004 – Registered Holistic Nutrition Diploma, The Canadian School of Natural Nutrition
2005 – Venipuncture and Injection Certificate, The New Earth College, Toronto
2005 – Doctor in Natural Medicine Diploma, Toronto School of Homeopathy